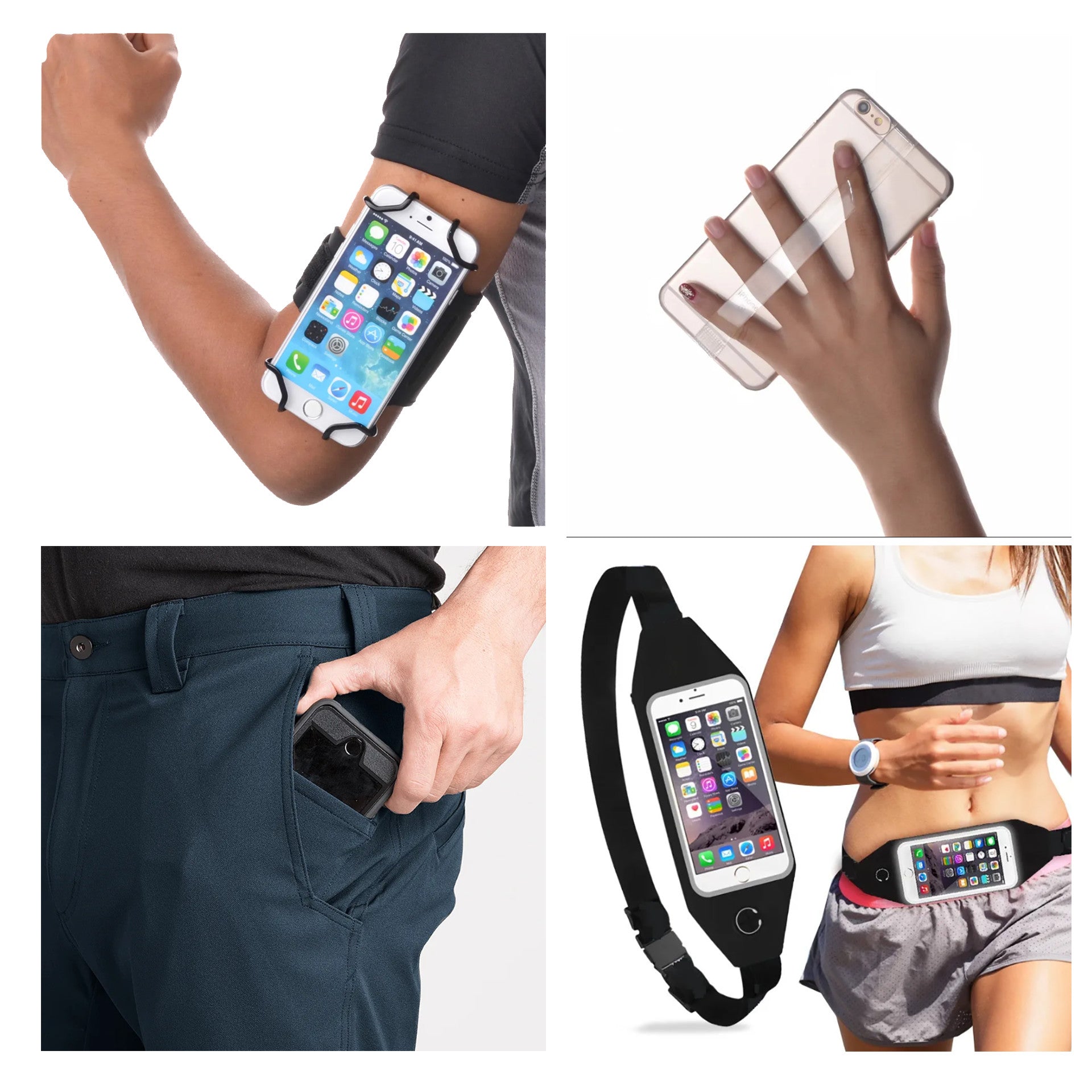 How to Carry Your Phone While Running
The Smartphone is an innovation that has completely transformed our lives. Considering its usefulness, it makes sense to bring our phones with us in most situations, whether that's going out for a run, walking the dog, or taking a quick trip to the grocery store. 
However, coming in at about 6-8 Ounces (without a case) on average, our phones weigh enough such that it can be challenging to comfortably carry it without a noticeable reduction in mobility. This article explores the pros and cons of the many options you have to carry your phone with you, whether you're on a 5 minute walk, or a 2000 mile thru-hike! 
Carry it in your Hand
The simplest option. If you're looking to avoid purchasing any gear to carry your phone, the best option is to carry it. However, carrying your phone occupies your hand and limits articulations of the arms and wrists during movement. While this may be fine on light jogs, if you're doing an all-out sprint this will create a considerable reduction on your movement efficiency. 
Pros:
       

Easy access at any time

       

Requires no extra gear
Cons:
       

Cumbersome on long excursions

 

     

  Hands are occupied and limits movement
2. Place it in clothing pockets
You're wearing pants with pockets, this is a great option for convenience. However, not all pants have pockets, and the ones that do are not equal in regards to bounce resistance. Pants with large, open-ended, non-stretchy pockets, for example, will experience bounce and the phone can potentially fall out of the pocket. If you wear pants with a stretchy inner liner pocket (as in the picture below) or use shorts with a zipper closure, this will help minimize this problem (with the tradeoff being taking slightly longer to access your phone).
Pros:
       

Easy access at any time

        Many

 different options

        Multipurpose
Cons:
       

Might cause clothing to sag

        Hard to use in certain positions (i.e. squatting)

        Contents inside pockets tend to bounce

        Theft risk
                        Stretch Pockets to Help with the Bounce Problem

                    Phone Bouncing Around in Loose Pocket
                                       Pocket vs. AthletiPack 
3.Use an Arm Band
Arm bands leave the hands free during a run, and keep the phone within easy access. You can attach headphones to your phone and check your screen without taking your phone out of the band. However, since the weight is connected to the upper body and far away from your centerline, it is unbalanced. Also, you encounter the same problem as Method #1 (carrying it) when doing explosive movements such as sprinting or jumping.
Pros:
       

Can access and see phone without taking it out

       

Easy to use headphones without tangling the cord
Cons:
       

Unbalanced

       

 Harder to find bands that fit big phones

        Only designed to carry phone
4.  Use a Running Belt
Running belts have gained in popularity over the years. There are a lot of options out there depending on how much you want to carry. Some belts (such as the Dimok belt pictured below) incorporate elastic webbing which helps to minimize bounce. 
Pros:
       

Hands-free method of carrying a phone

       

Lots of options

       

Close to centerline (balanced)
Cons:
       

Adds extra weight to the hips 

       

Harder to use with wired headphones

 
   

Use the AthletiPack
The AthletiPack's design has a divider in the main compartment which allows easy access to the main compartment through a dual zipper design. The pack can be worn as a fanny pack or on the chest and both ways incorporate the elastic webbing assembly which provides extreme bounce resistance. The pack keeps the load centralized and close to your body. Wear with a Non-Elastic webbing near the hips for extremely quick access to your phone, comparable to standard pants pockets. . 
Pros:
       

Easy Access to phone

       

Elastic Webbing provides extreme bounce resistance

        Option to wear on chest, waist, or back

        

Multipurpose (use for EDC, Travel, Hiking, etc.)
Cons:
        Slightly less quick access than standard pants pockets while standing.
 AthletiPack Optional Add On - Elastic Stretch Pocket